News
Re-opening Llandysul Memorial Park
Llandysul Memorial Park and Tirdref Land of Cymdeithas Chwaraeon Llandysul
After careful consideration and guidance, we are pleased to announce that Llandysul Memorial Park and the footpath surrounding the Tirdref playing fields will re-open from Saturday 4 July 2020 or sooner if measures can be put in place. Please be advised that this does not extend or include the Children's Play area which remains closed.
The Welsh Government keeps all the restrictions, including the requirement to stay local, under constant review,
currently set at 6 miles.
Given the improving picture, Ministers will lift the stay local requirement on 6 July 2020, if the conditions permit.
Therefore, at this time, our amenity is available if you live in our local area as defined by Government.
Travelling to parks, beaches and attractions outside your local area is not allowed. Many attractions and beauty spots (including car parks and public toilets) remain closed.
We as Operators of these local facilities stress the importance of everyone following guidelines/restrictions that are currently in place -
The rule about keeping people 2 metres apart when they do go out (known as
social or physical distancing
)
· Also, people must not gather in public places other than with members of one other household
Local Rules:
We would also like to remind everyone of the existing rules in place, and respectfully request that they are strictly adhered to –
1] Dogs to be on a lead at all times and kept to the paths with any fouling being cleared up and deposited in the bins provided.
2] The sports pitches are privately owned and restricted to affiliated Club activities only.
The situation will be monitored and reviewed regularly. If the rules/guidelines are not adhered to, then we will have no option other than closing the facility again.
We thank you in advance, for visiting and respecting these facilities.
Stay local & Stay safe
Llandysul Memorial Park Trustees
Cymdeithas Chwaraeon Llandysul
---
Notice of Audit Financial Year End 31/03/20
Notice of appointment of the date for the exercise of electors' rights.
Llandysul Community Council.
Financial year ending 31 March 2020.
1. Date of announcement: 15th June 2020
2. Each year the annual accounts are audited by the Auditor General for Wales. Prior to this date, any interested person has the opportunity to inspect and make copies of the accounts and all books, deeds, contracts, bills, vouchers and receipts etc. relating to them for 20 working days on reasonable notice. For the year ended March 31 2020, these documents will be available on reasonable notice on application to:
Nia Davies (Clerk), Llys Helyg, Rhydlewis, Llandysul, Ceredigion, SA44 5RE, 01239 851905.
between the hours of 16:30 and 19.30 on Monday to Friday commencing on 1st July 2020 and ending on 28th July 2020.
3. From 29th July 2020 until the audit has been completed, Local Government Electors and their representatives also have:
The right to question the Auditor General about the accounts. The Auditor General can be contacted via: Grant Thornton UK LLP, 3 Callaghan Square, Cardiff, CF10 5BT and
the right to attend before the Auditor General and make objections to the accounts or any item in them. Written notice of an objection must be given to the Auditor General via Grant Thornton UK LLP, Callaghan Square, Cardiff, CF10 5BT
A copy of the written notice must also be given to the council.
4. The audit is being conducted under the provisions of the Public Audit (Wales) Act 2004, the Accounts and Audit (Wales) Regulations 2014 and the Auditor General for Wales' Code of Audit Practice.
Notice of Audit Financial Year End 31/03/20
---
PUBLIC NOTICE LLANDYSUL TOWN COUNCIL
Notice is hereby given that there is 1 casual vacancy in the office of Councillor on the Llandysul Town Council.

Any ten electors of the electoral area of Llandysul Town Council may request an election to fill the 1 vacancy, by notice in writing, addressed and delivered to me at Neuadd Cyngor Ceredigion, Penmorfa, Aberaeron, on, or before 25/06/2020.
Printed and Published by Mr. Eifion Evans,
Returning Officer
Cyngor Sir Ceredigion County Council, Penmorfa, Aberaeron, Ceredigion, SA46 0PA
PUBLIC NOTICE LLANDYSUL TOWN COUNCIL
---
List of Resources in Ceredigion
From Ceredigion County Council
List of Food and Meal Deliveries in Ceredigion
Advice for Businesses
Food Banks in Ceredigion
http://www.ceredigion.gov.uk/resident/coronavirus-covid-19/list-of-resources-in-ceredigion/
---
Community Award 2019
Chairman of Llandysul Community Council Cllr. Gethin Jones presents Mr Gareth Bryant with the Community Award for his outstanding work in the area. The annual supper was held at the Gwarcefel Inn on Saturday November 30th.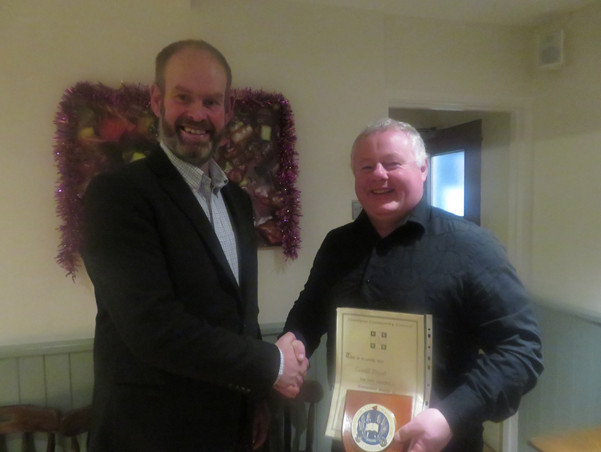 ---
News
Re-opening Llandysul Memorial Park
Llandysul Memorial Park and Tirdref Land of Cymdeithas Chwaraeon Llandysul

After careful co
Notice of Audit Financial Year End 31/03/20
Notice of appointment of the date for the exercise of electors' rights.
Llandysul Community C
PUBLIC NOTICE LLANDYSUL TOWN COUNCIL
Notice is hereby given that there is 1 casual vacancy in the office of Councillor on the Llandysul T
List of Resources in Ceredigion
From Ceredigion County Council
List of Food and Meal Deliveries in Ceredigion
Advice for Busin
Community Award 2019
Chairman of Llandysul Community Council Cllr. Gethin Jones presents Mr Gareth Bryant with the Commun
All news